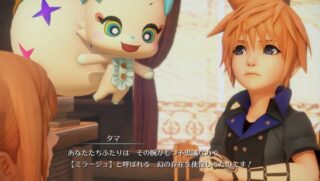 Square Enix will release a "dungeon demo" for World of Final Fantasy via the PlayStation Store in Japan on October 17, the company announced. It will be available on both PlayStation 4 and PS Vita.
The demo will let you play a dungeon that appears in the game in an original way. You'll control protagonists Lann and Reynn while collecting Mirages (monsters) and items, and proceeding through the dungeon. Final Fantasy Legend characters will also appear, and there is also a boss battle to be fought.
If you keep your cleared save data from the demo and start a new game when World of Final Fantasy is released, you'll be able to battle the special Mirage "Magitek Armor P" in the arena.
In related news, from October 10 to 16, Square Enix will be running a World of Final Fantasy promotion in Shibuya Station's Keio Inokashira Line ticket gate, where chibi Final Fantasy Legend characters including Bartz, Cloud, Vivi, Yuna, and Lightning decorate its columns. If you approach each character, you'll be able to hear some of their lines that appear in the game.
World of Final Fantasy is due out for PlayStation 4 and PS Vita on October 25 in North America, October 27 in Japan, and October 28 in Europe.
View a new set of screenshots at the gallery.