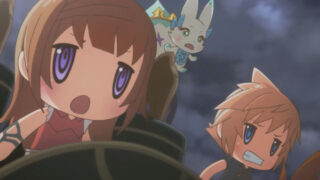 Square Enix will launch a free playable demo for World of Final Fantasy in North America and Europe, as well as Japan, on October 17, the company announced.
The demo, available via the PlayStation Store, will let players to experience heroes Reynn and Lann in their Lilikin and Jiant forms, meet various different Mirages, and encounter a selection of Final Fantasy characters (including Cloud, Lightning, and Squall). Completing the demo will let players battle and capture "Magitek Armor P" at the coliseum in the full version of the game.
Additionally, Square ENix also released the full-length animated opening to the game, showcasing two different animation styles.
World of Final Fantasy is due out for PlayStation 4 and PS Vita on October 25 in North America, October 27 in Japan, and October 28 in Europe.
Watch the video below.