The Tomorrow Children is now free-to-play
Work together to build and defend your town.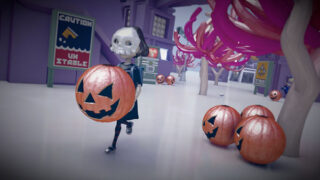 The Tomorrow Children is free-to-play starting today, Sony Interactive Entertainment and Q-Games announced.
The game launched as a paid "early access" title back in August and was always planned to go free-to-play. Alongside the free game, there will be a $19.99 "Frontier Pack," which includes "Bourgeoisie papers, Lv1. Arms License, Lv1. Tools License, EagleCorp Jetpack, three avatars and 500 Freeman dollars." PlayStation Plus members will also get an exclusive costume.
To celebrate the game's free-to-play launch, a bonus Halloween costume (pictured) will be provided for a limited time (between October 26 and November 2).
Q-Games has also released a major update to the game, addressing user feedback and adding a selection of new content, including new islands, tools, costumes, void powers, facilities, missions and much more.