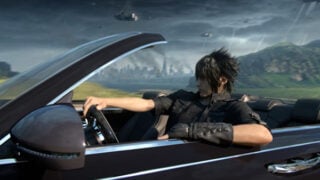 Final Fantasy XV has gone gold, Square Enix announced at Paris Games Week. That means development on the game is complete and it is ready for production.
With Final Fantasy XV now complete, development will shift towards the creation of the $24.99 Season Pass content. The main focus is three original episodes that take place during the events of the game. Each episode allows players to take control of one of Noctis' comrades, each who have their own play style. Players can explore previously unseen areas filled with new monsters, and even obtain weapons that can later be used in the main game. Episode Gladiolus will launch first, followed by Episode Ignis and Episode Prompto. Each episode can also be purchased separately in addition to with the Season Pass.
Following the character episodes, an expansion pack called "Comrades" will introduce a brand-new online co-op mode for up to four players which features "intense battles," allowing players to take full control of Noctis, Gladio, Prompto and Ignis as a group. Comrades will also be available as a separate purchase in addition to with the Season Pass.
Square Enix Business Division 2 producer Haruyoshi Sawatari is managing the downloadable content. It is being overseen by Final Fantasy XV director Hajime Tabata, with development led by core members of the game's team.
Square Enix also debuted a new CG trailer, dubbed "Omen," made in collaboration with Digic Pictures, who worked on Kingsglaive: Final Fantasy XV. Here's Square Enix's overview of the video: "Noctis navigates a rapidly shifting world, endless waves of enemies, a gradual loss of abilities, and a madness that brings harm to his beloved fiancée. Inspired by the world and story of Final Fantasy XV, the trailer depicts a nightmarish 'omen' for Noctis' father King Regis—a catastrophic future that must be avoided."
Final Fantasy XV is due out for PlayStation 4 and Xbox One on November 29.
Watch the trailer below. View a set of stills from the trailer, as well as three artworks for the Episode Gladiolus downloadable content, at the gallery.