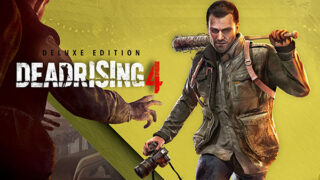 Microsoft has announced a Season Pass and digital-only Deluxe Edition for Dead Rising 4. 
The Deluxe Edition will include the game and the Season Pass for $79.99. It will be available digitally from the Microsoft Store and at select retailers worldwide via purchase of a digital code.
The Season Pass by itself costs $24.99. It includes the following additional content:
Stocking Stuffer Holiday Pack: Frank West is home for the holidays and he's got a naughty list the size of Willamette, Colorado. Tear up the streets with festive weapons, zombies, vehicles, costumes and more.
Super Ultra Dead Rising 4 Mini Golf: You've mastered the outbreak – now it's time to master the green, with eighteen holes of pure wanton destruction you can play with up to three friends online. Flip zombies the birdie where bloodthirsty, over the top zombie mayhem is par for the course. The world of Super Ultra Dead Rising 4 Mini Golf is extreme and the fairways are the town of Willamette, Colorado, including the iconic Willamette Memorial Megaplex Mall. Use Frank West's favorite weapons as your set of golf clubs. With an oversized golf ball, drive down the fairways, reaching for the green to nail the perfect putt. Watch your score as you do not want to bogey in this zombie filled eighteen-hole golf course. Mini golf is made crazier with the zombie horde as obstructions and hazards. Dead Rising Fore!
Dead Rising 4: Frank Rising: In this DLC, Frank West is freshly infected and needs to find a cure before he becomes a zombie and is lost forever. While searching for a cure, Frank discovers that everything is not the same as it was; zombies are getting smarter, people cannot be trusted and paramilitary forces are plotting to wipe out Willamette. Frank has a limited time before he reverts to the full zombie state and the city is wiped out. Frank will have to get to the truth first… or die trying.
Dead Rising 4 is due out worldwide for Xbox One and PC on December 6.