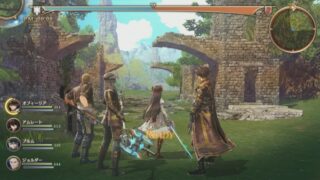 Valkyria: Azure Revolution "Battle Demo Ver. 2.0" will launch in Japan on October 6, Sega announced.
Currently, the only methods to gain access to the demo are to already have "Battle Demo Ver. 1.0," to have obtained a download code by playing the show floor demo at Tokyo Game Show 2016, to participate in the Jutland Kingdom national anthem singing event on October 8 in Shinjuku, or to participate in one of the game's upcoming hands-on events in five Japanese cities. Sega has not said whether it plans to ever make the demo openly accessible.
Find the full list of improvements in Battle Demo Ver. 2.0 over Battle Demo Ver. 1.0 here.
Valkyria: Azure Revolution is due out for PlayStation 4 and PS Vita in Japan on January 19.