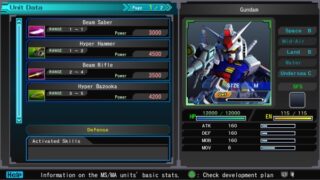 Bandai Namco Asia has released the first English screenshots of SD Gundam G Generation Genesis.
The screenshots show off the game's fully localized menu and dialogue.
Bandai Namco also confirmed it plans to extend the game post-release with newly added missions, Mobile Suits, and characters. Some of the planned additions include:
Mobile Suit Gundam: Brilliant Hathaway
Mobile Suit Gundam: The Origin
Mobile Suit Gundam: Thunderbolt
Advance of Zeta: The Flag of Titans
At launch, the game will feature 38 works.
If you missed it, catch the Tokyo Game Show 2016 trailer and Japanese box art here.
SD Gundam G Generation Genesis will launch for PlayStation 4 and PS Vita in Japan, and in Asia with English subtitles, on November 22.
View the screenshots at the gallery.