Persona 5 SteelBook Launch Edition design revealed
Featuring the cast of Persona 5.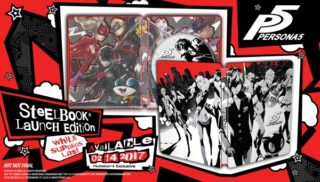 Atlus has revealed the updated design for the SteelBook Launch Edition of Persona 5.
The SteelBook features the cast portrait on the outside and the Phantom Thieves in their personal guises on the inside with a clear disc holder on top of it.
Persona 5 is now available for PlayStation 4 and PlayStation 3 in Japan, and will launch on February 14 in the Americas and Europe.
View the high-res SteelBook glamour shot at the gallery.