Atlus has announced its pre-launch and Tokyo Game Show 2016 live stream plans for Persona 5.
Get the schedule below.
September 14 (Niconico)

22:27 to 24:30 – 5,555 Seconds Before Launch Live Stream – Featuring Caroline and Justine (voiced by Aki Toyosaki), Goro Akechi (voiced by Soichiro Hoshi), Noriko Shouji, and others.

September 17 (into 18) (Niconico)

9:30 on September 17 to 17:00 on September 18 – A two-day broadcast from the floor of Tokyo Game Show 2016 to celebrate the launch of Persona 5. Come play Persona 5 from the beginning over a period of two days. By clearing certain conditions, you can also be entered in a drawing to get a wonderful treasure. Featuring Jun Fukuyama (Protagonist voice actor), Ikue Otani (Morgana voice actress), Soichiro Hoshi (Akechi Goro voice actor), Lyn (artist), Yumi Kawamura (artist), Shihoko Hirata (artist), Lotus Juice (artist), Tomomi Isomura (Hifumi Togo voice actress, Persona Stalker Club VMC), Mafia Kajita (freelance writer, Persona Stalker Club VMC), Chiaki Matsuzawa (free announcer, program lead), and others.
In related news, Atlus announced that it will release the Blu-ray and DVD versions of Persona 5 the Animation: The Day Breakers in Japan on December 7. The Blu-ray will cost 4,000 yen and the DVD will cost 3,000 yen. It includes a special broadcast from just before Persona 5's release, a case jacket illustrated by Shigenori Soejima, a special disc, and a priority sales application ticket for a Persona 5 the Animation: The Day Breakers "special event" to be held on July 30, 2017.
Here's the package artwork: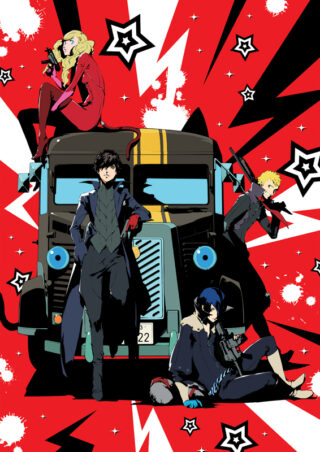 Persona 5 is due out for PlayStation 4 and PlayStation 3 in Japan on September 15, and in North America and Europe on February 14.