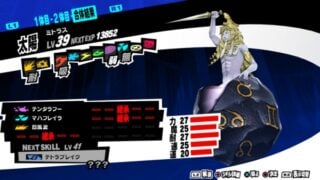 Atlus has updated the "Phantom Life" section of the Persona 5 official website with its final two sections, introducing the game's Mementos Dungeon and Persona fusion features.
Get the information below.
Mementos Dungeon

Outside of the main quests, you can receive free quests known as "Missions." The vast dungeon known as "Mementos" becomes the setting for these Missions. It is a special dungeon whose appearance changes each time you enter.

There is no end to the scale of Mementos, the Palace of the general public. However, Morgana can somehow transform into a bus called the "Morgana Car," which you can use to explore the expansive dungeon.

Persona Fusion

Fuse together different Personas to create new Personas. It is a ceremony in which you "execute" a Persona's old self to give birth to its new self. This new self you obtain will be much stronger.

You can do various things in the Velvet Room in addition to fusion. "Special Training" is one of those things. When special training is completed, your Persona will obtain "a skill to overcome their own weakness."
Persona 5 is due out for PlayStation 4 and PlayStation 3 on September 15 in Japan, and February 14 in the Americas and Europe.
View a new set of screenshots at the gallery.