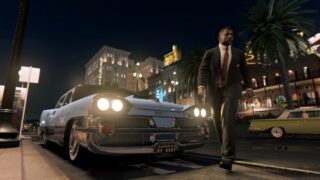 2K Games and Hangar 13 have detailed the free and paid post-launch downloadable content coming to Mafia III.
Free post-launch content includes new character outfits, new weapons, vehicle customization, and races.
Paid post-launch content includes three story expansions, and all the weapons, vehicles, and gameplay that comes with them. Purchased individually, all three expansions will cost $39.97 (approximately $13 each), but you can also buy the Season Pass to get all of the content for $29.99.
Get details on the post-launch content below.
Free: New Character Outfits

New outfits will allow you to select a look that suits your tastes and define your take on Lincoln.

Free: New Weapons

30 days after the game launches, everyone gets the "Judge, Jury and Executioner" golden weapons pack.

Free: Vehicle Customization

Additional customization options will expand upon the vehicle upgrades that already exist in Mafia III. Give your ride new wheels, personalized license plates, and paint jobs. There will also be more options to boost your vehicle's performance.

Free: Races

Take your tricked-out fleet into the city and enter a series of races. From there, you can earn money, new customization options for your car, and other awesome rewards.

Paid Expansion: "Faster, Baby!"

Fast cars, dramatic chases, and stunt driving take center stage as Lincoln joins forces with his former flame, Roxy Laveau, to take down a corrupt Sheriff terrorizing Civil Rights activists on the outskirts of New Bordeaux.

Paid Expansion: "Sign of the Times"

A string of ritualistic killings has New Bordeaux on the edge of terror. At Father James' request, Lincoln agrees to hunt down the cult responsible, a quest that will take him from the dark heart of the old bayou to the drug-ridden counterculture of the inner city.

Paid Expansion: "Stones Unturned"

When a merciless rival resurfaces in New Bordeaux, Lincoln must join forces with CIA agent John Donovan to settle a blood feud that began in the war-torn jungles of Vietnam.
Mafia III is due out for PlayStation 4, Xbox One, and PC on October 7.
View a new set of screenshots at the gallery.