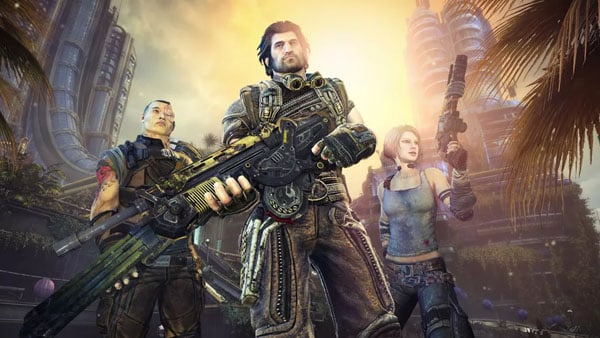 The Brazil Advisory Rating Board has rated Bulletstorm: Full Clip Edition for PlayStation 4, Xbox One, and PC.
It is listed as published by Gearbox Software and due out in 2017.
Screenshots of a Bulletstorm remaster were included in a package of assets Microsoft gave out at E3 2016 in June. Despite the assets, however, an official announcement was never made. When we contacted developer People Can Fly at the time, we were told by a studio representative, "We offer no comments to any Bulletstorm remaster questions at this moment."
Bulletstorm first launched for PlayStation 3, Xbox 360, and PC in 2011. Here's an overview of the game, via its Steam page:
About

As Grayson Hunt, players wield an arsenal of over-the-top combat moves and outrageously large guns that feed into distinct 'skillshot' system producing unprecedented levels of frantic gameplay and yell-inducing satisfaction.

Key Features

Incredible New "Skillshot" System: Combine outrageous gunplay with unique kick, slide and leash mechanics as you Kill with Skill. Every enemy presents a new opportunity for stylish, over-the-top and ever increasingly bloody ways to take them down.
The Circle of Awesome: Kill with skill to rack up the points. Cash in these points for upgrades. Use these upgrades to pull off even bigger and better "skillshots" and earn even more points… the upgrade system truly is a circle of awesome that rewards players who kill in the most creative ways.
Badass Weaponry: From your trusty Peace Maker Carbine to the explosive Flail Gun, Bulletstorm delivers an arsenal of the most inventive, death-dealing weapons ever seen that truly put the fun back into the First Person Shooter.
Echoes and Anarchy Modes: Challenge your friends in Echo mode, an arcade, offline experience where gamers play their favorite sections of the campaign mode and compete for highest score. Or team-up with up to three of your friends in Anarchy mode, a co-op high octane multiplayer experience.