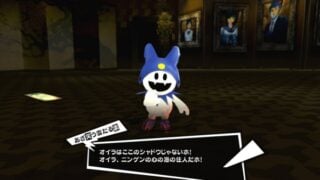 Atlus has updated the Persona 5 official Japanese website with new details and screenshots of the upcoming RPG, including the code names of the Phantom Thieves (the main party), and another look at dungeon exploration and battles.
Get the details below.
Code Names

Protagonist – Joker
Ryuji Sakamoto – Skull
Anne Takamaki – Panther
Morgana – Mona
Yusuke Kitagawa – Fox
Makoto Niijima – Queen
Futaba Sakura – Navi
Haru Okumura – Noir

Let's Take on the Palace

The distinctly unique Palace hinders your path! It's a place that, at first glance, may seem like there is no way through, but by pressing the Circle button, you can climb scaffolds and walls, or jump across chandeliers.

Exhilarating Battles Evolved

The command-your-Persona battle has further evolved. With the "Direct Command," you can attack at the press of a button. Strike the enemy's weakness and bring them down. And when a "1 More" is triggered, you can attack an additional time. Take advantage of the enemies' weaknesses to gain the upper hand in battle.

In some situations during battle, you'll be able to converse with a Shadow. If the conversation goes well, the Shadow can become a Persona for the protagonist.
Persona 5 is due out for PlayStation 4 and PlayStation 3 on September 15 in Japan, and on February 14 in the Americas and Europe.
View the new screenshots at the gallery.