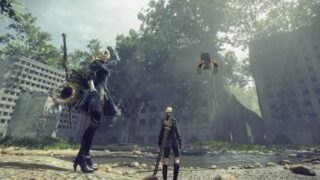 NieR: Automata will launch for PC via Steam alongside the previously announced PlayStation 4 version in early 2017, Square Enix announced at Gamescom 2016.
The game tells the story of androids 2B, 9S, and A2 and their battle to reclaim a machine-driven dystopia overrun by powerful weapons known as machine lifeforms.
View a new set of screenshots at the gallery.
Square Enix has also released two versions of the game's theme song for listening. Hear them below.
Theme: J'Nique Nicole Version
Theme: Emi Evans Version