Idol Death Game TV details idol Ren Isahaya, Dream Coins, and Baku Royale
Ren Isahaya is a beautiful girl with an androgynous appearance.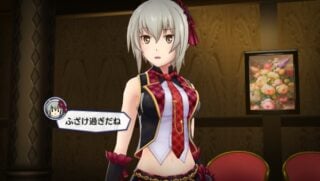 D3 Publisher has released the latest information on Idol Death Game TV, its upcoming PS Vita game where idols battle to the death for a center position.
If you missed our previous coverage, read up on the game's story, characters, and systems here.
Get the new information below.
■ Character

Team Passion

—Ren Isahaya

Voiced by: MAO
D-Ranking: 2
Birthplace: Nagasaki Prefecture
Birthday: September 20
Blood Type: A
Height: 159cm
Three Sizes: B83-W56-H85
Skills: Dancing, Karate
Hobbies: Training
Favorite Food: Champon

A member of Project 47's Kyushu team, "Team Passion." Part of the sixth generation. She's a beautiful girl with an androgynous appearance. She's a talented idol who, while cool, has a hidden passion. She's usually quiet, but exhibits the strength of her resolute heart during the critical junctures, and receives tremendous support from her male fans (especially the insecure ones). She has three consecutive Dream of Dreams victories, but stubbornly boycotts her center inauguration. She insists that's she's an artist, not an idol…

■ Dream Coins

"Dream Coins" are indispensable when it comes to attaining victory in the death game. A certain amount of Dream Coins are necessary to receive the judgment that awaits in each stage. You can also use them to purchase items that will be helpful in passing judgment. You can obtain these coins by searching the mansion and talking with the other idols. And after a certain amount of time has passed, you can also receive Dream Coins based on your number of fans (your number of fans will change based on your actions). Dream Coins are the key to survival!

■ Baku Royale

Don't have enough Dream Coins? At times like these, you can steal Dream Coins from your rivals in a "Baku Royale." A Baku Royale is a one-on-one battle where you combine "Bakuro Words" (Exposure Words), which you can buy with Dream Coins, to hit your opponent with a scandal that will become their weak point. The side that throws down the ghastliest Bakuro Words will be the winner. Doripaku will judge who wins and hurl bombs at the idol that loses, branding them as defeated.

You can obtain hints for Bakuro Word combinations while exploring. Since the content of a scandal is different for each character, you should see through the opponent's scandal with the hints you've obtained, as well as your own intuition. If you win, not only will you steal your opponent's Dream Coins, you'll also drop their tension, making judgment difficult to pass.

By slapping your opponent with a special combination of Bakuro Words, you can bring to light a severe scandal that will put an end to the opponent idol's life. However, your idol nature will be doubted by fans when you challenge the Baku Royale, so caution is necessary as your number of fans will decrease.

■ Next Update

The next update will introduce a D-Ranking 1 idol who comes from "Team Rising" of Hokkaido in the Touhoku region. The veil will also finally be lifted on the judging process.

■ Special Pack

A 12,744 yen Idol Death Game TV Special Pack, available at Dengekiya, will include the following:

A copy of the game
Game music CD containing each idol's character song
Original B2 tapestry (illustrated by Metawo Ueda)
Original custom PS Vita theme
A download code for the in-game system voices (featuring the voices of all the idols in the game)
Idol Death Game TV is due out for PS Vita in Japan on October 20.
View a new set of screenshots at the gallery.