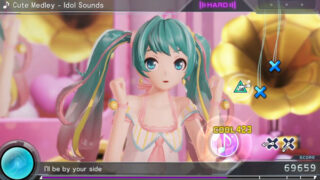 Sega has released a new trailer for Hatsune Miku: Project DIVA X called the "Rhythm" trailer.
Hatsune Miku: Project DIVA X will offer a full-fledged story mode where players are tasked with helping Miku and friends with restoring the light fading from their world. To do this, you'll guide her through the five Clouds (Classic, Cute, Cool, Elegant, and Quirky) and help her sing, dance, and put on her best ever shows in order to restore the light.
The game offers "Easy," "Normal," "Hard," and "Extreme" difficulty levels, as well as nearly 300 modules (costumes) and accessories. Each Cloud will resonate differently with certain modules and accessories, which will increase your Voltage Rate bonus and points earned.
There is also a "Concert Editor" that will allow you to create your own concerts for Hatsune Miku and friends. You'll be able to edit camera movements, stage effects, lighting, and so on.
A demo for Hatsune Miku Project DIVA X will launch in both the Americas and Europe next Tuesday, August 9 across PlayStation 4 and PS Vita.
Hatsune Miku Project DIVA X is due out for PlayStation 4 and PS Vita physically and digitally in North America, and digitally in Europe, on August 30.
Watch the trailer below.