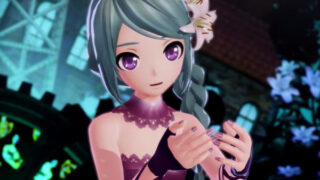 Sega has released a 13-minute trailer for the PlayStation 4 version of Hatsune Miku: Project DIVA X introducing the game's 32 total songs.
The 32 songs includes 24 standard songs, six medleys, and two downloadable content songs. Here is everything:
DLC Songs (Out August 25. Free for PS4. 500 yen each for PS Vita.)

"Sharing the World" by Bighead
"Hand in Hand" by livetune

Included with Game

"Satisfaction" by livetune
"LOL -lots of laugh-" by mikumix
"Hitorinbo Envy" by Koyori (Temporu-P)
"Hikyou Sentai Urotander" by Shin-P
"Tsumi no Namae" by ryo (supercell)
"Hajimete no Oto" by malo
"Akahitoha" by Kurousa-P (WhiteFlame)
"Ai Dee" by Mitchie M
"Calc." by JimmyThumb-P
"Babylon" by Tohma
"Kunoichi Demo Koi ga Shitai" by Mikito-P
"Seisou Bakuretsu Boy" by Reruriri Moja
"Streaming Heart" by DECO*27
"Umiyuri Kaitei Tan" by n-buna
"Slow Motion" by Pinocchio-P
"Amazing Dolce" by Hitoshizuku x Yama Triangle
"Ai no Uta" by Lamaze-P
"Tsugihagi Sutakkaato" by Toa
"Lost One no Goukoku" by Neru
"Nounai Kakumei Girl" by MARETU
"Mrs. Pumpkin no Kokkei na Yume" by Hachi
"Ren'ai Saiban" by 40mP
"Raspberry*Monster" by HoneyWorks
"Strangers" by Heavenz

Medleys

"Ultimate Medley ~Virtuous Runaway Suite~" arranged by cosMo@Bousou-P
"Beauty Medley ~Glossy Mixture~" arranged by Treow (ELECTROCUTICA)
"Cute Medley ~Idol Sounds~" arranged by Mitchie M
"Cool Medley ~Cyber Rock Jam~" arranged by Osamu
"Chaos Medley ~Giga Remix~" arranged by Giga-P
"Beginning Medley – Primary Colors" arranged by OSTER project
Hatsune Miku Project DIVA X is due out for PlayStation 4 and PS Vita physically and digitally in the Americas, and digitally in Europe, on August 30.
Watch the trailer below.