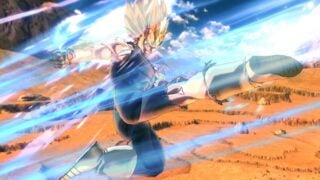 Bandai Namco released a new trailer and set of screenshots for Dragon Ball Xenoverse 2 at Gamescom 2016.
Dubbed "Fight Together," the trailer highlights teamwork and strategy. Players will be able to fight against powerful enemies with up to five other heroes.
Dragon Ball Xenoverse 2 will launch for PlayStation 4 and Xbox One on October 25 in North America and October 28 in Europe, and for PC via Steam worldwide on October 28.
Get the trailer and a fact sheet below. View the screenshots at the gallery.
About

Developed to fully utilize the power of current generation gaming consoles and PCs, Dragon Ball Xenoverse 2 builds upon the highly popular Dragon Ball Xenoverse with enhanced graphics that will further immerse players into the largest and most detailed Dragon Ball world ever developed. Dragon Ball Xenoverse 2 will deliver a new hub city and the most character customization choices to date among a multitude of new features and special upgrades.

Features

Relive Dragon Ball Emblematic Events – Enemies from different timelines enter the story of Drgaon Ball.
Bigger and Better – Explore a massive, all-new hub with hundreds of players and activities. Conton City is more than seven times bigger than Toki Toki City! You can now fly around the city with up to 300 other players!
Exhalting Fights Await – Fast-paced battles, smooth 60 FPS and gorgeous HD graphics for even more epic fights.
Your Character, Your Way – Choose among thousands of customization options to create your own character and build up your power.
New Local and Online Battles – Fight through new, classic, and team battles with up to 6 players, including characters from Dragon Ball Super.
A Year of Free Updates and New Content Awaits – Extend your Dragon Ball Xenoverse 2 experience for at least an entire year from the release, and enjoy tons of new content through regular free updates.