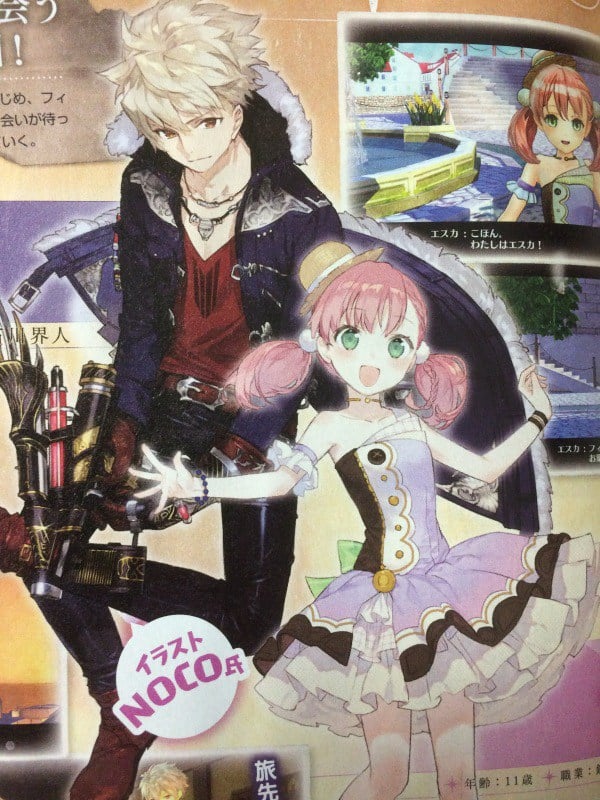 Escha and Logy, from Atelier Escha & Logy: Alchemists of the Dusk Sky, will appear in Atelier Firis: The Alchemist of the Mysterious Journey, the latest issue of Dengeki PlayStation reveals. But Escha is a bit… different.
Escha, voiced by Rie Murakawa and designed by Yuugen, is an 11 year-old alchemist. She is a lively, gluttonous girl living in Flussheim. She is curious, taking interest in various things, and nowadays manipulates Logy. She is childhood friends with Mea, who lives in the same town.
Logy, voiced by Kaito Ishikawa and designed by NOCO, is a 27 year-old blacksmith. You'll meet him in Flussheim, and he'll also do weapon creation for Firis. His illustration seems the same as it was in Atelier Sophie: The Alchemist of the Mysterious Book, but his 3D model may have changed.
Other new characters introduced in Dengeki PlayStation include:
Kald Lau (voiced by Hiroki Tochi, designed by Yuugen) – A young historian from the "Nation of Evidence," who makes it his purpose to record history. He has a cool and calm personality, but isn't so good at talking to girls following a certain incident that gave him a phobia of women.
Kirsche Litter (voiced by Ayano Yamamoto, designed by Yuugen) – A 10-year-old alchemist. A girl who lives in Flocke, the snow village, and the youngest to ever pass the certified alchemist exam. In spite of her age, her behavior is often somehow enlightened, but she also worries she doesn't have enough age-appropriate friends.
Kai Holthaus (voiced by Ryousuke Morita, designed by NOCO) – 25 years old. A cheerful and bright sailor who lives in Flussheim, the lake town. He works hard to help the town flourish. And while he's always doting on his little sister Mea, he has recently begun to consider her a bit of a nuisance. He has a good relationship with Logy, who he goes out to drink with.
Mea Holthaus (voiced by Rina Honizumi, designed by NOCO) – 12 years old. Kai's younger sister and a cheerful tomboy who manages a shop. She loves fishing and often abandons the shop for it.
It is unknown if any of these characters, including Escha and Logy, will join the party.
Atelier Firis: The Alchemist of the Mysterious Journey is due out for PlayStation 4 and PS Vita on September 29 in Japan.
Thanks, My Game News Flash, Otakomu, and Games Talk.