Wild Guns Reloaded trailer introduces new characters Bullet and Doris
Due out this fall for PlayStation 4.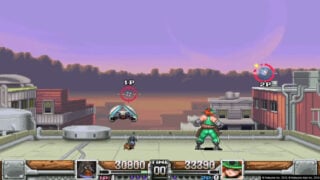 Natsume has released a new trailer for Wild Guns Reloaded, introducing new playable characters Bullet (a dog) and Doris (the woman in green).
Due out this fall, Wild Guns Reloaded is a fast-paced gallery-style shooter that mixes the Wild West with steampunk. Players can play as Clint, Annie, new characters Bullet and Doris, or all together in multiplayer. Each character has their own weapons and tactics, and can jump, dive, and roll to doge bullets, or shoot enemies down with their own gun. The story sees Annie having tracked down the famed bounty hunter Clint to get revenge on the Kid gang. There are a total of eight stages, each with three zones.
Watch the trailer below.