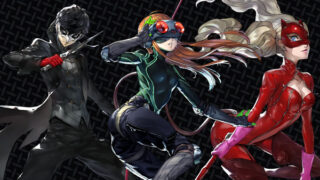 Atlus has updated the Persona 5 official website with new details, artwork, and screenshots.
The new artwork shows each of the main characters in their Phantom Thief outfits.
The details, which are accompanied by the screenshots and aren't exactly new to our knowledge (but new to the website), are below:
Battle Enemies Using Personas

The Palace is filled with guard-like beings called "Shadows," which protect the dungeon's treasure. You can start battles by sneaking up on these Shadows. In addition your weapon, there is the inner power known as the "Persona." The main characters, whose "Persona Capabilities" have awakened, will use their Personas, their own alter egos, to defeat their enemies.

(Shadows are the "embodiments of human emotions," twisted by the distorted desires of the Palace's master. Operating under the Palace master's influence, Shadows will ambush the main characters.)

Take Part in Various School Events

During the day, you'll attend school as a student. In the morning, you'll commute to school by train. On days that you're lucky and get a seat, you can make use of the time by reading. At school, you'll actually take classes. And if you meet certain conditions, it's also possible to skip class…

From ball game tournaments to seaside cultural festivals and field trips, there are all sorts of events for each season that you can participate in during your school life.

Cooperation Characters

Although also main characters, the following characters are also available as Cooperation Characters:

Futaba – Hermit Arcana
Ryuji – Chariot Arcana
Anne – Lovers Arcana
Yusuke – Emperor Arcana
Haru – Empress Arcana
Makoto – Priestess Arcana
Morgana – Magician Arcana

Cooperation Characters are some of the various people that the protagonist and friends will meet, whether in school or in the city, who possess special abilities and skills. Their interests will align with yours, and by building up a relationship of mutual trust, you can establish a cooperative "Co-Op" relationship with them. By deepening your bonds with cooperation characters, you can use their abilities to better go about your life as a Phantom Thief.
Persona 5 is due out for PlayStation 4 and PlayStation 3 on September 15 in Japan and on February 14 in the Americas. A European release is also planned via publisher Deep Silver, but a release date has not been announced.
View the new images at the gallery.