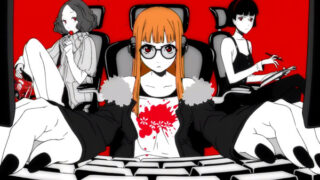 Atlus shared new video and information on Persona 5 during its Premium Event Niconico live stream today.
Here's what was revealed:
Opening Animation
The opening animation is produced by Production I.G.
The First 18 Minutes
Atlus premiered the first 18 minutes of the game. Proceed with caution.
(Watch with English subtitles here.)
Cooperation Characters
Seven more Cooperation Characters. As previously detailed, Cooperation Characters are some of the various people that the protagonist and friends will meet, whether in school or in the city, who possess special abilities and skills. Their interests will align with yours, and by building up a relationship of mutual trust, you can establish a cooperative "Co-Op" relationship with them. By deepening your bonds with cooperation characters, you can use their abilities to go about your life as a Phantom Thief more advantageously.
Hifumi Togo (voiced by Tomomi Isomura) – Star Arcana
A young lady who attends Kosei Public High School. She holds the championship title in the Female Shogi League. Her appearance has gained her attention as the "too beautiful shogi player." She practices hard and gives interviews every day for the sake of her mother and for the world of shogi, but…
(Watch with English subtitles here.)
Toranosuke Yoshida (voiced by Keiichi Noda) – Sun Arcana
A man who gives soapbox speeches outside of Shibuya Station. In the 20 years since he started, he's lost seven consecutive elections. Given certain circumstances, not very many people stop and listen to Yoshida's words, but his speeches are actually good. He is seriously confronting the country's future. His sash reads, "Friendly Society, Bright Future."
(Watch with English subtitles here.)
Sadayo Kawakami (voiced by Mai Fuchigami) – Temperance Arcana
A teacher at Syujin High School. She's in charge of Class 2-B, which has the protagonist, Anne, and Mishima. You'll catch her throughout the school with unkempt hair and a consistently sleepy face. At first glance, she appears to be a quiet teacher with safety first standards, but…
(Watch with English subtitles here.)
Chihaya Mifune (voiced by Miyu Matsuki) – Fortune Arcana
A tarot fortune-teller who runs a fortune-telling stand in Shinjuku. She has a bright and cheerful atmosphere about her, but her fortunes always hit the mark. She is rumored to definitely be "a real fortune-teller," but at the same time apparently recommends these "suspicious stones"….
(Watch with English subtitles here.)
Yuki Mishima (voiced by Daisuke Sakaguchi) – Moon Arcana
A second-year male student at Syujin High School and classmate of the protagonist. He's a member of the Volleyball Club, and is always getting himself hurt. After a certain incident, he reduces his distance to the protagonist, but…
(Watch with English subtitles here.)
Shinya Oda (voiced by Aki Kanada) – Tower Arcana
An elementary school boy who plays at the arcade in Akihabara. He takes pride in his marvelous power in a certain online gun shooting game, and is known as the boy genius player. He seems to long for the "power" of the Phantom Thieves, but what could the reason be?
(Watch with English subtitles here.)
Ichiko Oya (voiced by Yumi Uchiyama) – Devil Arcana
A gossip reporter in her mid-20s. Since she'll write whatever story sells, she'll sometimes manipulate the information in her articles. She seems to have previously been political reporter who fought social evils, but…
(Watch with English subtitles here.)
Mementos Dungeon
The Mementos Dungeon is an auto-generated infinite dungeon separate from the main game. You'll explore this dungeon's vast maps while riding Morgana, who transforms into a bus, and take on free quests.
(Watch with English subtitles here.)
TV Spot #1: Protagonist
Atlus will air eight weeks of Persona 5 TV commercials starting July 25. The first commercial focuses on the protagonist. (P-Ch.jp)
Persona 5 the Animation: The Day Breakers Anime
The Persona 5 the Animation: The Day Breakers anime special will air on Tokyo MX on September 3 from 19:00 to 19:55, Gunma TV on September 3 from 21:00 to 21:55, Tochigi TV on September 4 from 19:00 to 19:55, and BS11 on September 5 from 22:00 to 22:55. (P-Ch.jp)
(YouTube upload restricted to Japanese audiences. View the MP4 version here.)
Staff Interview
The latest staff interview featuring director Katsura Hashino, character designer Shigenori Soejima, and composer Shoji Meguro. In it, Hashino confirms development on Persona 5 is finally complete.
Web Comic
A web comic on Ura Sunday set to begin day and date with the game's Japanese release on September 15. (P-Ch.jp, Twitter)
Persona 20th Anniversary Festival
The previously announced Persona 20th Anniversary Festival will run from December 8 to 18 at Arts Chiyoda in Tokyo.
(P-Ch.jp)
Nationwide Hands-On Tour
Starting July 31, Atlus will begin holding hands-on gameplay events throughout Japan.
Storefront events (10 to 15 minutes of hands-on time):
July 30 from 11:00 to 18:00 – Osaka – Joshin Disk Pier Nihonbashi
August 6 from 10:00 to 18:00 – Tokyo – Akihabara UDX Gallery
August 13 from 10:00 to 18:00 – Hokkaido – Yodobashi Camera Multimedia Sapporo Store Special Corner
August 21 from 12:00 to 19:00 – Aichi – Animate Nagoya Special Site (Third Taiko Building)
August 27 from 12:00 to 19:00 – Fukuoka – Yoyogi Animation Gakuin Fifth Floor
Premium events (two hours of hands-on time):
July 31 – Tokyo – Hulic Hall & Conference
August 7 – Osaka – Creative Center Osaka
August 11 – Sendai – L Park Sendai
August 20 – Nagoya – Winc Aichi
August 27 – Fukuoka – Momochi Beach SRP Hall
(P-Ch.jp)
Tokyo Game Show
Persona 5 will be at Tokyo Game Show 2016, which runs from its release date on September 15 to September 18. Visit its teaser website here. (P-Ch.jp)
Persona 5 is due out for PlayStation 4 and PlayStation 3 on September 15 in Japan and on February 14 in the Americas. A European release is also planned via publisher Deep Silver, but a release date has not been announced.
View a new set of screenshots at the gallery.