Mary Skelter details Job System, Job trailer
PS Vita dungeon RPG features over 20 different jobs.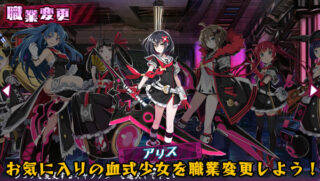 Compile Heart has updated the official website for Divine Prison Tower: Mary Skelter with details on the game's Job System.
Get the new information below.
Job System

The Chishiki Girls possess the ability to change "jobs," which greatly changes their battle style in terms of appearance, equipment, and skills.

Each Chishiki Girl has a fixed job style. For example, Alice and Cinderella have access to "Fighter Type" jobs, which are close combat jobs like "Paladin" and "Destroy." Thumbelina, who excels in the use of magic, has access to "Magician Type" jobs like the attack-based "Blood Witch" and recovery-based "Therapist."

There are more than 20 jobs. Some others include "Item Tooler," which specializes in the use of items, and "Poet," which specializes in strengthening allies.

Change jobs to your liking to form the ultimate Chishiki Girls Squad.
Compile Heart also released a trailer showcasing the Job System.
If you missed them, previous updates detailed the Jail and Confinement Areas, the Liberation District, Dawn Liberation Front, the Chishiki Girls, Blood Skelter mode, the protagonist's actions, the three major desires, the basics of battle, Nightmare Battles, characters Princess Kaguya and Rapunzel, Thumbelina, Snow White, and Sleeping Beauty, as well as the setting, and characters Jack, Alice, and Little Red Riding Hood.
Divine Prison Tower: Mary Skelter is due out in Japan on October 13.
View a new set of monster artworks and (NSFW) shop-specific purchase bonus posters at the gallery.