The Idolmaster: Platinum Stars 'Ritsuko Akizuki' character trailer
The twelfth in Bandai Namco's series of idol introduction trailers.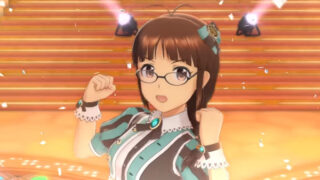 The latest The Idolmaster: Platinum Stars character trailer introduces Ritsuko Akizuki.
Previous trailers introduced Hibiki Ganaha, Makoto Kikuchi, Azusa Miura, Miki Hoshii, Ami Futami, Mami Futami, Iori Minase, Haruka Amami, Yayoi Takatsuki, Chihaya Kisaragi and Takane Shijou.
The PlayStation 4 idol training game is due out on July 28 in Japan. If you missed it, catch the latest information blasts here, here, here, and here.
Watch the trailer below.