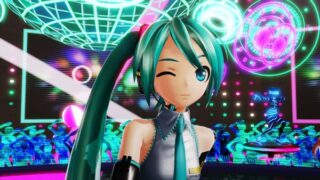 Hatsune Miku: Project DIVA X will launch for PlayStation 4 and PS Vita in Europe as a digital-only title on August 30, Sega of Europe announced.
In the Americas, Hatsune Miku: Project DIVA X is due out both physically and digitally on August 30.
A Hatsune Miku: Project DIVA X demo will be available for PlayStation 4 and PS Vita via the PlayStation Store in both North America and Europe on August 9. It features three songs—"Satisfaction," "LOL -lots of laugh-," and "Raspberry & Monster"—on Easy or Normal difficulties. Players will be able to unlock a handful of costume modules for Hatsune Miku, and even create a custom Music Festival medley of their own design as an Event Request.
Here's an overview of the game, via Sega of Europe:
Overview

In Hatsune Miku: Project DIVA X, the world is comprised of five unique Clouds, each with its own aura – Classic, Cool, Cute, Elegant, and Quirky. As Miku and her friends progress, the auras of the songs they perform and even the modules they choose will have a profound effect on fulfilling challenge conditions for players to test themselves with. There's also the newly added Concert Editor, which lets players create their own mini-concerts from the songs, modules and accessories they collect. As players take on Requests and explore Clouds with Miku and her friends, they begin to forge relationships, and ultimately, will reveal the secret of the eponymous "X."

Features

Digital Singers Take Over the Living Room – Produce live concerts accessorized to the max with unlockable costumes, songs, and stages to create custom live concerts starring Hatsune Miku and her friends!
30 Miku Tracks – An assortment of new and classic Hatsune Miku music will be yours to jam to! The songs are split into Auras and have different difficulties and challenges to complete. Project DIVA X includes new arrangements and medleys by beloved artists as well.
Cloud Requests – Go to five different Clouds with Miku and her friends, and explore them and the challenges within. But naturally, selecting the right modules and accessories are key to fulfilling the Requests. There's also Free Play, which offers the traditional experience for Project DIVA games.
Interact with Miku and Her Friends – Things start to get very meta for the digital singer as she and her friends discover what it's like to live in the world of Project DIVA X – players can interact with the characters.
Watch the latest trailer below.