Blade Arcus from Shining EX coming west for PC via Steam on July 28
Studio Saisenzen bringing Shining fighter to PC.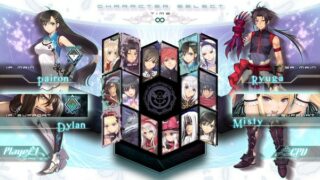 Blade Arcus from Shining EX, Sega's fighting game featuring characters from the Shining series, is coming west for PC via Steam from Studio Saisenzen. It will be called Blade Arcus from Shining: Battle Arena.
In Japan, Blade Arcus from Shining EX was released for PlayStation 4 and PlayStation 3 on November 26, 2015.
Here's the full overview, via the game's Steam page:
Overview

In a world controlled by blade, magic, and fist diverse warriors gather for battle! This is a 2D fighting game featuring characters from Shining Blade and Shining Hearts.

Features

Tag Battle with 16 playable characters
Beautiful artwork by Tony(AlbionWorks)
Story Mode with full voice acting
Hone your skills in Traning Mode!
Go head to head with your friends in Versus Mode!
Online mode, created just for the Steam release!
Defeat your rivals from all over the world with Online Leaderboards/Ranking System!

4 Different Game Modes

Explore the characters stories in an RPG style with full voice acting in Story Mode!
Go head to head with your friends in Versus mode.
Hone your skills in Training Mode.
Take on Blade Arcus Battle Arena players from all around the world with Online mode.

Characters

Play as one of 16 different characters from the Shining universe! The full list of character are as follows: Ryuuga, Pairon, Rage, Sakuya, Xiao Mei, Altina, Roselinde, Melty, Fenrir, Isaac, Rick, Dylan, Rouna, Urayukihime, Misty, Sonia

Beautiful Artwork and Voice Acting

Tony (AlbionWorks) has created some incredibly beautiful artwork for this game.
We've also brought on an incredible cast of voice actors including Yukari Tamura, Nana Mizuki and Rie Kugimiya.

Battle System

Originally from Japanese game centres/arcades, Blade Arcus from Shining features unique battle and game balance systems. Play online, defeat your rivals, and become the very best!

You'll utilize tag-based mechanics by selecting a primary character and a secondary character. You can switch characters between rounds as well as call on your partner for help using "Link Attacks".
Watch the announcement trailer below. View a set of screenshots at the gallery.
Update: This post previously listed Degica Games as publisher of the PC version. Studio Saisenzen is the publisher. Degica is helping with some aspects of the release, however.