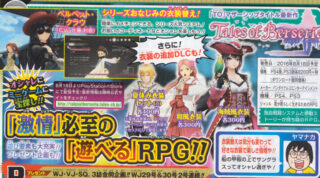 The latest issue of Weekly Jump introduces two new characters, first downloadable content costumes, and other tidbits about Tales of Berseria.
Get the information below.
Characters

Shigure Rangetsu (voiced by Kazuya Nakai) – A Legate-rank exorcist swordsman. He is Rokurou's older brother and the current head of the Rangetsu family.
Melchior (voiced by Nobuo Tobita) – A Legate-rank exorcist of the Abbey. He is the senior adviser to the savior Artorius.

Other Stuff

Cooking – You can restore HP and get specific support effects by eating the food you cook.
Katz Boxes – Mysterious treasure chests are scattered across the map.
Mini-Game – A card game featuring various Tales of series characters.

August 18-due Downloadable Content

Summer Costume Set with three color variations (400 yen)
Pirate Costume Set (300 yen)
Japanese-Style Costume Set (300 yen)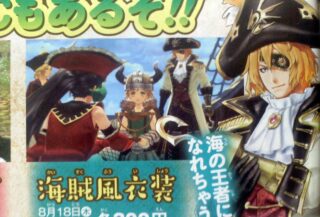 Tales of Berseria is due out for PlayStation 4 and PlayStation 3 on August 18 in Japan, and for PlayStation 4 and PC in North America and Europe in early 2017.
Thanks, Tokkurin.