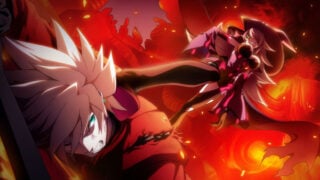 BlazBlue: Central Fiction will launch for PlayStation 4 and PlayStation 3 in Europe via publisher PQube in Q4 2016, the company announced.
In North America, the game is due out this winter.
The final chapter in the story of Ragna the Bloodedge, BlazBlue: Central Fiction will feature a 40-plus hour Story Mode, re-worked Arcade Mode, new characters, new gameplay mechanics, and rebalanced characters.
Here is a set of features, via PQube:
40+ hour story mode – A Brand New Chapter in the Saga. A massive story mode coupled with new modes and mechanics will keep you coming back for more!
30+ Characters – Compelling visual designs and creative combat mechanics dominate this cast of excellent characters.
60+ Stages – New locales and familiar stomping grounds are all rendered in 3D and offer a unique contrast to the intricately hand-drawn 2D fighter sprites.
Glorious 2D visuals – Insanely detailed 2D hand-drawn sprites coupled with astonishing 3D rendered backgrounds create a world unlike anything you've seen before!
New game mechanics – Massive Exceed Accel attacks to finish Overdrive mode with a bang, and Active Flow that will encourage aggressive play and increase your offensive power.
New Game Modes – Speed Star Mode and Alliance Mode
Stylish Type – Simplify the control scheme to let new players enter the fight without getting stuck on complicated input commands!
Watch a trailer below.