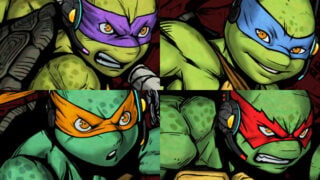 Activision and PlatinumGames have released four character trailers for upcoming action game Teenage Mutant Ninja Turtles: Mutants in Manhattan.
Each trailer highlights a different hero turtle, showcasing their unique fighting styles and personalities, as well as some of the distinct enemy types and locations players will overcome as they battle the legions of the Foot Clan across New York City.
Teenage Mutant Ninja Turtles: Mutants in Manhattan is due out for PlayStation 4, Xbox One, PlayStation 3, Xbox 360, and PC via Steam worldwide on May 24.
Watch the trailers below.
Donatello
Donatello is the team's resident tech guru, spending his down time inventing gadgets and keeping the vehicles running. During battle, he's always quick to toss a handful of pizza slices into the air when his brothers need health. And when he joins forces with a teammate, the two dismantle the enemy defenses with a barrage of teleportation attacks.
Leonardo
Leonardo is the team leader, and his drive for perfection is unmatched. His brand of ninjutsu gives him the ability to slow down time, allowing him to execute lightning-fast strikes with pin-point precision. And when he teams up with another Turtle for a whirlwind attack, their enemies don't stand a chance.
Michelangelo
Michelangelo is always good for a laugh, but don't underestimate his skills. He's not afraid to grab a pair of pompoms and choreograph a miniature pep rally when his teammates' special abilities need refreshing. And his disco dancing mesmerizes foes into cutting a rug of their own, forcing enemies to drop their defenses and giving the Turtles a chance to attack.
Raphael
Raphael may be the strong silent type, but he never backs down from a good brawl. He's the master of stealth and can make himself invisible to enemies until unleashing a surprise attack. And when he partners with one of his Turtle teammates, the two create a shell-slamming shockwave that knocks the Foot Clan off their feet.