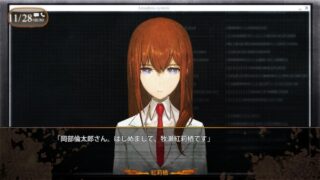 A trio of Spanish retailers have listed Steins;Gate 0 for PlayStation 4 and PS Vita. The game is tagged across all three listings with an August 26 release date under the distribution of BadLand.
The listings include Amazon Spain (PS4, PS Vita), Fnac (PS4, PS Vita), and Xtralife (PS4, PS Vita). The PlayStation 3 version is not listed.
The original Steins;Gate was localized for PlayStation 3 and PS Vita by publisher PQube. BadLand is a partner of PQube.
Steins;Gate 0 first launched in Japan in November 2015. It is a midquel to the original Steins;Gate, and follows Rintaro Okabe after he returns to the Beta timeline where a certain someone is fated to die.
Thanks, NeoGAF.