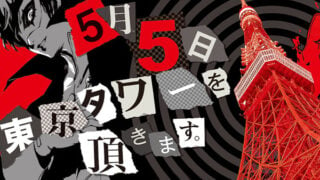 Atlus is hosting a Persona 5 special broadcast this morning, where it is will share the latest information on the game, and potentially a Japanese release date.
Here's the full schedule of events (all times are Japan Standard):
19:00 (7:00 p.m.) – Tokyo Tower LIVE Scenic Camera (before the broadcast)
21:30 (9:30 p.m.) – Main Program Start
22:?? (10:?? p.m.) – Persona Stalker Club Official Tour Edition featuring Tomomi Isomura and Mafia Kajita
The broadcast will be live streamed on Niconico. Alternatively, YouTube user OmegaValwin, and Twitch users Pantypan and WounLive will be rehosting the stream.
Persona 5 is due out for PlayStation 4 and PlayStation 3 in Japan this summer, and in North America in 2016.