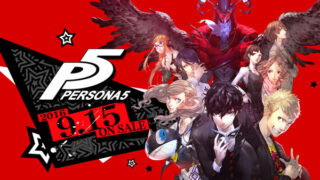 Persona 5 will launch for PlayStation 4 and PlayStation 3 in Japan for 8,800 yen on September 15, Atlus announced. Pre-orders will open on May 6 at 10:00 JST.
A 13,800 yen "20th Anniversary Edition" will include the following:
A copy of Persona 5
Persona 5 art book – B5 size hard-cover Shigenori Soejima-illustrated special binding
Persona 20th Anniversary All-Time Best Album (five discs)

Disc 1: Shin Megami Tensei: Persona, etc.
Disc 2: Persona 2: Innocent Sin / Persona 2: Eternal Punishment
Disc 3: Persona 3 (FES), etc.
Disc 4: Persona 4 (The Golden), etc.
Disc 5: Persona 5

Special Collaboration DLC Set

Set 01: Special Persona Set – Includes "Persona 5 ver. Orpheus Zokujin & Persona 3 ver. Orpheus" and "Persona 5 ver. Izanagi Zokujin & Persona 4 ver. Izanagi." A set of two Personas and exclusive skills as made picaresque by Shigenori Soejima.
Set 02: Costume & BGM & Single Set – Includes "Phantom Thief Outfits: Persona 3 Gekkoukan High School Uniforms" and "Phantom Thief Outfits: Persona 4 Yasogami High School Uniforms." Each contains costumes for the game's nine party members, battle BGM from their respective games, and a single set.
Set 03: 20th Anniversary Edition Exclusive "Shigenori Soejima-illustrated Special Custom Theme"

Special Persona 5 Art treasure box
Here are some more images of the 20th Anniversary Edition:

Atlus also confirmed that Persona 5's next appearance will be at E3 2016, which runs from June 14 to 16 in Los Angeles.
Outside of the game, Atlus announced that the previously teased Persona 5 anime special, officially titled Persona 5 the Animation: The Day Breakers, will air in September. The 30-minute animation will be produced by A-1 Pictures and is a prologue story that depicts the game's Phantom Thieves on a certain mission.
Additionally, Atlus announced that it will host the Persona series' first orchestra concert on August 13, and a Persona 20th Anniversary Festival at Arts Chiyoda in December.
Watch a new trailer and video interview featuring director Katsura Hasino (and more gameplay footage) below. Visit the newly relaunched official website here.
Trailer
(For English subtitles, click here.)
Staff Interview
View a new set of screenshots (via HMV, they're actually mostly old trailer stills, but were never released in screenshot form) and high-res box arts at the gallery.