Kingsglaive: Final Fantasy XV Nyx and Luna Japanese voice actors announced
Gou Ayano and Shiori Kutsuna.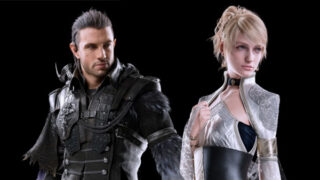 Gou Ayano will voice Nyx Ulric and Shiori Kutsuna will voice Lunafrena Nox Fleuret in the Japanese dub for Kingsglaive: Final Fantasy XV, Square Enix's upcoming feature-length full-CG movie based on Final Fantasy XV, the company announced.
In the English version, Nyx is voiced by Aaron Paul and Lunafreya by Lena Headey.
(Update 3:55 p.m.: A new video, added below, reveals Regis Lucis Caelum is voiced by Tsutomu Isobe and Drautos is voiced by Kouichi Yamadera.)
(Update 11:30 p.m.: Libertus is voiced by Mitsuaki Kanuka, Luche is voiced by Tomokazu Seki, and Crowe is voiced by Ayumi Fujimura.)
If you missed it, catch the latest update on the movie here.
Watch a new pair of videos below.
Thanks, 4Gamer.net.