The Idolmaster: Platinum Stars second trailer
New three-minute trailer released.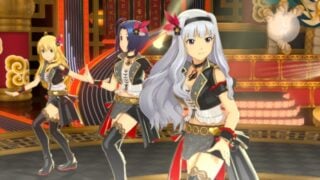 Bandai Namco has released the second trailer for The Idolmaster: Platinum Stars.
New gameplay details were also shared:
■ Limited Edition Platinum Box Illustration

■ New Song and Outfit

New Song: "The Live Kakumei de Show!" (Music and lyrics by Tsukumo Koganei, composition by BSNI's Takafumi Sato)
New Outfit: "Revolutionite"

■ Idol Business and Lessons

Through lessons and business, your idols will grow. The business they receive and their lesson levels will change according to their idol rank.

Idol Business

Through idol business, you'll increase your idols' fans and money.

During business, the producer will negotiate with other parties.

By shaking around your notebook (using the controller), you can perform coordination and negotiations. If successful, you can increase your fans and money even more.

Lessons

Through lessons, you'll increase your idols' abilities and experience.

—Burst Lesson

—Expression Lesson

—Cosmetics Lesson

■ Tailor

The tailor can mend and tailor outfits.

Mending

You can use up to ten of the same outfits and accessories in strengthening. For example, by combining two "Twinkle Star LV01" outfits, you can create the "Twinkle Star LV02" outfit. Doing so requires money, however.

Tailoring

With five of the same rank tailor cards, you can make new outfits and accessories. Coupons for the tailor can be randomly obtained after a concert.

■ All-Star Concert

The All-Star Concert is held four times per year at the end of each of the four seasons. There are two types of All-Star Concerts. One sees all the idols of 765 Production on stage three times in a row, while the other is a concert in the form of a non-stop medley.

■ New All-Star Concert: Medley Concert

A single concert featuring all the idols of 765 Production performing a special mix non-step medley of songs.
The PlayStation 4 game is due out on July 28 in Japan. If you missed it, catch more footage, the official box art, and more gameplay information here.
Watch the trailer below. View a new set of screenshots at the gallery.