Hatsune Miku: Project DIVA X PS4 screenshots
Including PlayStation VR mode screenshots.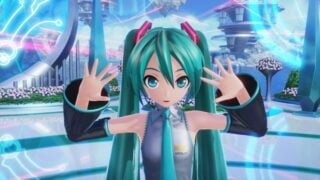 Sega has released a batch of screenshots from the PlayStation 4 version of Hatsune Miku: Project DIVA X, showing all of the game's songs and medleys, two additional downloadable content songs due out for free at launch, and the PlayStation VR concert appreciation mode.
Here's what you'll see, in order:
DLC Songs (Out August 25. Free for PS4. 500 yen each for PS Vita.)

"Sharing the World" by Bighead
"Hand in Hand" by livetune

Included with Game

"Satisfaction" by livetune
"LOL -lots of laugh-" by mikumix
"Hitorinbo Envy" by Koyori (Temporu-P)
"Hikyou Sentai Urotander" by Shin-P
"Tsumi no Namae" by ryo (supercell)
"Hajimete no Oto" by malo
"Akahitoha" by Kurousa-P (WhiteFlame)
"Ai Dee" by Mitchie M
"Calc." by JimmyThumb-P
"Babylon" by Tohma
"Kunoichi Demo Koi ga Shitai" by Mikito-P
"Seisou Bakuretsu Boy" by Reruriri Moja
"Streaming Heart" by DECO*27
"Umiyuri Kaitei Tan" by n-buna
"Slow Motion" by Pinocchio-P
"Amazing Dolce" by Hitoshizuku x Yama Triangle
"Ai no Uta" by Lamaze-P
"Tsugihagi Sutakkaato" by Toa
"Lost One no Goukoku" by Neru
"Nounai Kakumei Girl" by MARETU
"Mrs. Pumpkin no Kokkei na Yume" by Hachi
"Ren'ai Saiban" by 40mP
"Raspberry*Monster" by HoneyWorks
"Strangers" by Heavenz

Medleys

"Ultimate Medley ~Virtuous Runaway Suite~" arranged by cosMo@Bousou-P
"Beauty Medley ~Glossy Mixture~" arranged by Treow (ELECTROCUTICA)
"Cute Medley ~Idol Sounds~" arranged by Mitchie M
"Cool Medley ~Cyber Rock Jam~" arranged by Osamu
"Chaos Medley ~Giga Remix~" arranged by Giga-P
"Beginning Medley – Primary Colors" arranged by OSTER project
As previously announced, Hatsune Miku: Project DIVA X supports PlayStation VR through "Live Edit Mode" concert viewing. It works with all songs, allowing you to watch Hatsune Miku as if she was right in front of you. PlayStation VR mode is shown in images 40 to 43. Live Edit Mode screenshots follow.
Hatsune Miku: Project DIVA X is due out for PlayStation 4 and PS Vita in the Americas on August 30. The PS Vita version is already available in Japan, and the PlayStation 4 version will launch in the country on August 25.
View the screenshots at the gallery.