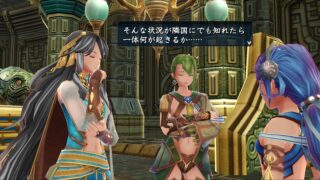 Famitsu and Dengeki PlayStation this week has new information on some of the castaways you'll rescue on the Isle of Seiren in Ys VIII: Lacrimosa of DANA, as well as other new tidbits on the game's systems and more from Falcom president Toshihiro Kondo.
First, a preview of the new characters, via Dengeki Online.
The following information comes from Dengeki PlayStation, via Sokuho@Hokanko.
■ Characters

Olga (voiced by Yui Kano) – (The green-haired girl.) Dana's childhood friend. A hard worker who's tough on herself as well as others. She often admonishes Dana, but also worries about her.
Sarai (voiced by Yuki Kaneko) – (The black-haired girl.) Dana and Olga's childhood friend. A friendly girl. She's generally calm but will once in a while will let out a sharp remark.
Cathleen (voiced by Sayaka Hirao) – (The brunette girl.) A 29 year-old woman blacksmith whose grandfather is a well-known craftsman in the Romun Empire. She gets involved in the Lombardia Passenger Liner disaster.
Aaron (voiced by Eiji Takemoto) – (The blonde man.) A 36 year-old member of the Romun Empire military police who chases after violent criminals, and during that gets involved in the shipwreck disaster. He's also skilled in tool making and building facilities.

■ System

Blacksmithery – Created after you rescue Cathleen, and lets you strengthen weapons or create new weapons and armor.
Industrial Arts Shop – Created after you rescue Aaron, and lets you dismantle accessories, arm armor, and equipment.
Location Point – When you discover specific points such as landscapes, it will be registered to the map.

■ Toshihiro Kondo Interview Tidbits

Famitsu

It hasn't been decided if you can control characters on Dana's side, but there are scenes where they act together with her.
Dana and company hold important positions in the kingdoms in which they live, and in public act the part, but in private their friendship is on display.
Castaways each have their own unique profiles and events.
Castaways basically only gather in the Drifting Village, but party members can set up camps in various locations on the island where they can recover.
Events with party members also occur at camp sites.
Weapons variations depend on the character, but seven-to-eight stages are being prepared.
Protective equipment consists of armor, arm armor, and accessories, and features nearly 100 types of equipment.
There are one-to-two Location Points present in each area. They can also be found in dungeons and such.

Dengeki PlayStation

Dana's world is a different world where there is a civilization of winged people.
There is a story about a criminal Aaron is chasing.
There are variations to weapon strengthening in three stages.
Ys VIII: Lacrimosa of DANA is due out for PS Vita in Japan on July 21 and for PlayStation 4 in 2017.