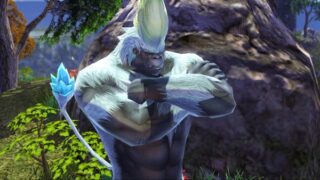 Falcom has released new Ys VIII: Lacrimosa of DANA information and screenshots detailing Master Kong, a great monkey character you can battle to acquire powerful skills, who was first introduced in Dengeki PlayStation earlier this month.
Get the information below.
■ Characters

Master Kong (Osu)

"Uho, uhoho."

A great monkey "master" with a body of hardened steel who taught a young Ricotta the way of battle and how to hunt beasts.

Although he cannot speak human language, his intellect is on the same level as a human, and he can also freely communicate with Ricotta.

He is very prideful, and is superhumanly picky about manners, but if you bring him his favorite food, ripe mangos, he'll train Adol and company as a thank-you.

■ System (Master Kong Battle)

Battle Ricotta's Master and Get a Powerful Skill Attack!

By searching for Master Kong, the master who taught Ricotta, the girl of the Isle of Seiren, how to fight, and presenting him his favorite food, a ripe mango, as a present, the player character can challenge him in a one-on-one battle.

Master Kong is very powerful, and is a formidable foe with high offensive and defensive power, but if you manage to win the battle, you'll be able to acquire a powerful dedicated skill attack for each character.
Ys VIII: Lacrimosa of DANA is due out for PS Vita in Japan on July 21 and for PlayStation 4 in 2017.
View the screenshots at the gallery.