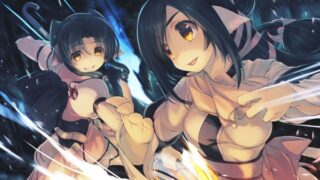 Aquaplus has released new information on Utawarerumono: The Two Hakuoros, introducing the strategy RPG and visual novel's story, characters, and 9,800-yen Premium Edition.
Get the information below.
■ Story

"Ask… her royal highness, the princess… Nekone, be happy…"

Oshutoru entrusts the imperial princess and his little sister's future to Haku, and his body and soul dissolved in the air and became part of this world.

And Haku also disappeared.

Entrusted with the mask (Akuruka), Haku chose to live as Oshutoru in order to save everyone.

Haku will try to overcome the world of a new war through both his own resourcefulness and Oshutoru's reputation.

Respecting her older brother's will, Nekone suppresses her emotions and devotes herself to Haku.

The allies who lost Haku and Kuon have sank into sadness.

The unavoidable flames of war will now certainly devour En'nakamui.

And this was also the beginning of a war which will spread all throughout the land of Yamato.

■ Characters

Oshutoru (Haku) (voiced by Keiji Fujiwara)

Respecting the will of Oshutoru, Haku wears the mask (Akuruka) on his behalf. Taking advantage of his reputation as Oshutoru and the resourcefulness of his personal connections as Haku, he makes moves to recapture Anju's crown.

Fumiruiru (voiced by Yuko Gibu)

A beautiful, big-hearted girl born in Tuskuru. She is a good, understanding person and Kuon's attendant, while at the same time an older sister-like character. Her charming appearance creates problems and often becomes a cause of worry for Kuon.

Nekone (voiced by Inori Minase)

Oshutoru's little sister. She is an intellectual girl with a strong sense of responsibility and lovely, still childish features. She is a prodigy who was the youngest candidate to ever pass the court exam, and whose hobby is examining ancient things. She supports Haku, who took the place of Oshutoru, in order to try and fulfill her brother's will. She carries the responsibility for her brother's death on her back and agonizes herself for it.

Rurutie (voiced by Ai Kakuma)

The daughter of the frontier kingdom of Kujuuri lord Oozen. As the youngest of 15 siblings, she is a shy girl with princess-like kindness. She specializes in food, tea, and making sweets, and is in charge of the personal care of imperial princess Anju. After the death of the Haku she admired and a fight with her allies, she has been showcasing mental growth. She rides into battle on the back of the Hororon bird Kokopop that she keeps.

Atui (voiced by Yumi Hara)

The daughter of the ocean kingdom of Shahhoro lord Soyankekuru. A girl with a quiet and unwavering personality, who speaks peculiarly elegant. As she is naturally war-loving, she is indispensable to En'nakamui's military power, but is frequently prone to demanding formidable foes. She always puts her pet Kurarin on her head.

■ Premium Edition

For 9,800 yen, the Premium Edition includes:

A copy of the game
Special-illustrated packaging
Utawarerumono: The Two Hakuoros creation materials including each character's initial creations and rough drafts
Utawarerumono: The Two Hakuoros mini soundtrack CD including a selection of songs from the game
Utawarerumono: The Two Hakuoros special illustration folding screen
Utawarerumono: The Two Hakuoros is due out for PlayStation 4, PlayStation 3, and PS Vita in Japan on September 21.
View a new set of images at the gallery.