Let It Die playable at PAX East 2016, new screenshots [Update]
Free-to-play survival game due out this year for PS4.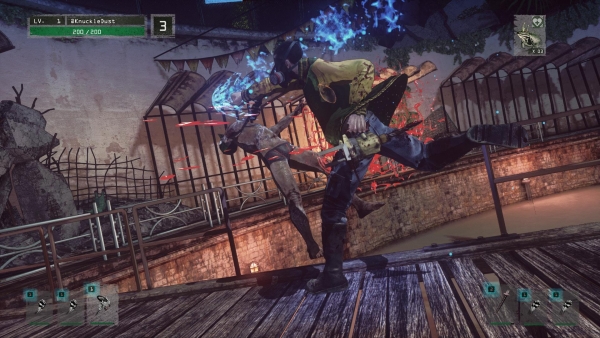 GungHo Online Entertainment has announced its lineup for PAX East 2016, and Grasshopper's 2016-due, free-to-play survival game Let It Die for PlayStation 4 will be playable for the first time on the show floor.
Suda 51 will also be at PAX East conducting interviews with media.
PAX East runs from April 22 to 24.
View a new set of screenshots at the gallery.
Update 3:30 p.m.: Watch a developer announcement video below.
Get GungHo's full lineup below.
Puzzle & Dragons

Featuring an addictive combination of puzzle, dungeon-crawling, and monster-collecting gameplay, Puzzle & Dragons is a mobile gaming phenomenon that continues to see tremendous growth. In the game, players capture, collect, and evolve hundreds of elemental monsters while using quick thinking to chain combos and maximize the abilities and skills of their monsters. Puzzle & Dragons has surpassed more than 50 million downloads worldwide.

Let It Die

From the creative mind behind Lolipop Chainsaw and No More Heroes comes Let It Die! Death cancels everything, except the truth in this upcoming free-to-play survival action game. PAX East attendees will receive the first ever public hands-on demos of Let It Die and experience a piece of the action close up. Interviews with Suda 51 are available to media by request.

Super Senso

Super Senso is a turn-based action strategy game that pits player versus player in fast-paced matches on vivid 3D battlefields to compete for rare rewards, exclusive content and global supremacy. Players collect and unleash massive, customized mechs on their enemies while amassing unstoppable smash up armies of zombie soldiers, tanks, ninjas, weaponized dinosaurs, UFOs and much more. Outsmart, outplay and obliterate opponents in PvP battles of epic proportions!

GALAK-Z: Variant Mobile

GALAK-Z: Variant Mobile, a 2D sci-fi shooter paying homage to classic anime and 1980s arcade games, casts players in the role of Adam "A-Tak" Takamoto as he pilots his spacecraft or mech to warn the people of Earth about an impending alien invasion. Optimized for the mobile experience with fully integrated touch screen controls, updated UI, and much more, GALAK-Z: Variant Mobile asks players to navigate through hostile alien territories while collecting valuable resources and carefully managing upgrades, weapons, and salvage if they hope to survive.