Square Enix will reveal a new character for the arcade version of Dissidia Final Fantasy during a Niconico live stream on April 13 at 20:00 JST, the publisher announced.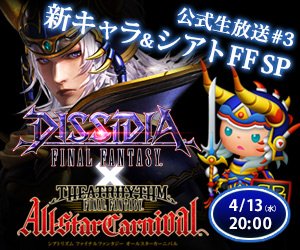 The live stream will feature gameplay, as well as the introduction of the fighting game's latest version, including existing character revisions and such.
The fall-due arcade game Theatrhythm Final Fantasy: All-Star Carnival will also be featured on the live stream. We'll get an introduction of the game's content ahead of its April 15 location test.