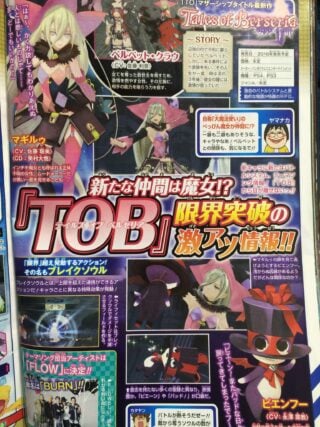 The latest issue of Weekly Jump reveals two new characters in Tales of Berseria.
Magilou, voiced by Satomi Sato and desgined by Daigo Okumura, is an unidentifiable woman also referred to as the Bogus Witch. She is described as a mood maker, but she also has a dark side.
Bienfu, voiced by Naomi Nagasawa, is a unique, hat-wearing Malak, who appears along the line of a mascot character. He is different from most Malak without egos, as he is very expressive. His favorite phrases are "Bien" and "Bad!"
The magazine also has information on the new "Break Soul" system used in battle. These are linked actions that go beyond the limit and trigger special effects for each character.
Finally, the magazine confirms that the theme song is called "Burn" by the rock band Flow.
Tales of Berseria is due out for PlayStation 4 and PlayStation 3 in Japan in 2016. A western release is planned for PlayStation 4 and PC.
Thanks, @kazu4281.