River City Ransom SP second trailer
New details about the upcoming 3DS remake.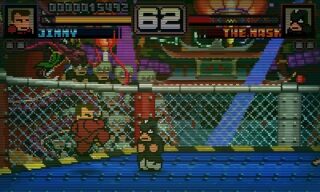 Arc System Works has released the second trailer for River City Ransom SP, its upcoming 3DS remake of the original River City Ransom for NES featuring various additional event scenes, updated graphics, various new techniques and combos, new areas, and new systems.
The company also released new information about the game's new systems:
Special Moves and Super Special Moves

Kunio has access to new "Special Moves" that consume the SP Gauge. If you're attacked, damaged, or guard against an attack, your SP Gauge will refill.

Additionally, if you use a Special Move a lot, it will evolve into a "Super Special Move," and you could even learn new techniques.

New System: Consecutive Attacks and Nekketsu Counters

"Consecutive Attacks" previously unavailable are present in this game. Different from Special Moves that consume the SP Gauge, these do not, and as you level up Kunio and his status increases, so does the number of hits Kunio can land.

Additionally, when you're surrounded by enemies and have nowhere to go, you can use a "Nekketsu Counter." When you use a Nekketsu Counter, you can bring down the enemies around you and create distance when in a pinch. However, since it consumes the SP Gauge, be sure to use it at the right times.

Strengthening Kunio

You can level up Kunio by amassing EXP. When you level up, you'll obtain Level Points, which can be partitioned out to faculties like "Punch," "HP," "Luck," and so on to increase your status.

You can also strengthen Kunio by attaching him with equipment. With the "Backbone," for example, even if Kunio takes a hit great enough to deplete his HP, he'll have still 1 HP left. Or with the "Goemon Technique," you'll automatically recover dropped items. Each piece of equipment has a maximum of two skills.

You can buy equipment in the shop or get equipment as drops when you defeat opponents.

New Mode: Fighting of Double Dragon 2016

This is a 2D fighting game= mode. All 14 characters reminiscent of bosses that appear in the main mode are playable, as are their special moves and super special moves. You can play this mode on your own or locally with a friend over Download Play.
River City Ransom SP will launch for 3DS in Japan on April 28.
Watch the trailer below. View a new set of screenshots at the gallery.
https://www.youtube.com/watch?v=tqX6nCTuA7g