Kirby: Planet Robobot announced for 3DS
Invaders have mechanized Dream Land.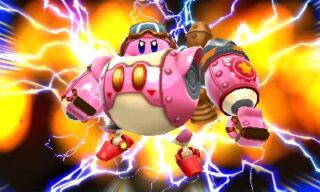 Nintendo has announced Kirby: Planet Robobot for 3DS.
Due out in Japan on April 28, and North America and Europe on June 10, Planet Robobot tasks Kirby with saving Dream Land from robotic invaders. To restore his home to its original form, Kirby must use their technology against them with the new Robobot Armor, which uses more than 10 modes, and has upgraded versions of Kirby's classic copy abilities.
Planet Robobot also includes a four-player multiplayer co-op mode called "Team Kirby Clash." Players select one of four roles, and participate in a co-op quest to defeat a boss while supporting their team. Completing a quest earns experience points to level-up and grow more powerful.
The game will also be compatible with a large variety of Amiibo figures. Some give Kirby a special copy ability. The Mario Amiibo, for example, will give Kirby a Fire ability. The Link Amiibo gives him a sword. New Amiibo figures for Kirby, King Dedede, Meta Knight, and Waddle Dee will launch alongside the game, and when tapped give Kirby attributes specific to each character. Tapping the Kirby figure is the only way to get the UFO ability.
Watch the reveal video below. View the first screenshots at the gallery.