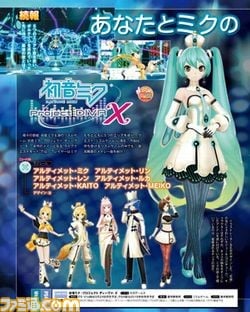 The latest issue of Weekly Famitsu introduces a new medley playable in Hatsune Miku: Project DIVA X.
Arranged by [email protected], "Shuukyoku no Medley ~Chouzetsu Gikou Bousou Kumikyoku" is described as the "last boss" medley due to its high difficulty—the kind that will make you think, "What? How am I supposed to clear such a difficult medley?" It includes the following songs:
"Hatsune Miku no Shoushitsu"
"Uraomote Lovers"
"Sadistic Music Factory"
"Nijigen Dream Fever"
"Hatsune Miku no Gekishou"
New modules, designed by Hidari, are also revealed:
Ultimate Miku
Ultimate Rin
Ultimate Len
Ultimate Luka
Ultimate Kaito
Ultimate Meiko
Hatsune Miku: Project DIVA X will launch for PS Vita on March 24 in Japan and for PlayStation 4 in fall 2016.
Thanks, Famitsu and Hachima Kikou.