Black Rose Valkyrie outlines Interview System, Battle System, and Valkyrie weapons
The "Tactical Fluid Battle System."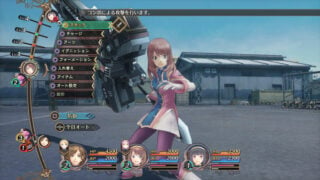 Compile Heart has updated the Black Rose Valkyrie official website with new information and screenshots outlining the game's Interview System, Battle System, and Valkyrie weapons.
Get the information below.
Interview System

Using the Chimera opposition weapon T-C-S is an extreme burden on the user. As a result, side effects have been reported that bring about a "personality split." The change that occurs when the personality splits is very similar to when an infected person goes berserk from Chimeraism, and this has been raised as the biggest challenge to running the system. In the case that there is a "Chimera Reserve" hiding among the Valkyrie users, it is harder to notice the difference between Chimeraism or not, and because it would expose the unit to a critical situation, each member must be interviewed at fixed intervals for indications of Chimeraism.

Battle System

Black Rose Valkyrie uses a command-based battle system that changes the order of actions in real-time, and is called the "Tactical Fluid Battle System." By always changing the order of actions, it becomes a battle where both allies and enemies are jumbled together. You can use commands such as "Combos," "Charge," and "Arts" to play out tactical battles. Take on formidable foes using your Chimera opposition weapon T-C-S to its fullest potential.

T-C-S Code Name "Valkyrie"

"T-C-S," code-named "Valkyrie" is the tactical weapon used for the opposition of Chimera. Asahi Shiramine, as well as every one in the Special Military Forces Valkyrie, use a T-C-S to fight against Chimera. The TCS is enabled by connecting via a plug to the body of persons authorized by the system. Currently, an enhancing agent that physically strengthens the user is administered at the same time, in order for the user to handle the mass of steel that is a T-C-S like a normal weapon. However, the burden on the user's body as a result of this medication is very large, and long-term use is prohibited. It should be noted that, in the case that someone other than an authorized person uses the weapon, the system and enhancing agent will be rejected, which could cause the person's body and mind to collapse, and in the worst case, even die.
Read more about the game's setting here.
Black Rose Valkyrie is due out for PlayStation 4 in Japan on June 30.
View the screenshots at the gallery.