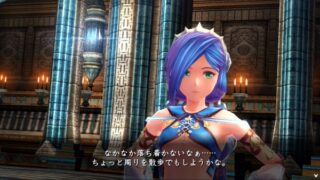 Falcom has released new Ys VIII: Lacrimosa of DANA information and screenshots introducing the game's second protagonist, Dana, and how her story will develop.
Get the information below.
■ Character

In addition to Adol Christin, Ys VIII: Lacrimosa of DANA has a second protagonist. Introducing the mysterious girl named Dana.

Dana (age unknown)
Weapon: Half-Moon Swords | Attack Attribute: Slash

"Fiery red hair…. Who was that person, I wonder?"

A mysterious, blue-haired girl who appears in Adol's dreams. Contrary to her lovely appearance, her actions are often bold and imaginative, and can even surprise those around her.

She has never seen the Eresia continent, and seems to live in an area that possesses a very advanced civilization. Players will experience the life of this girl through Adol's dreams, but…

—Attack Attribute: Slash

Dana uses two, highly curved, crescent moon swords, and twists her body while quickly slashing and delivering one attack after the next. With her agile speed, the slashes brought forth by her rotational power exceeds even the offensive ability of Adol.

■ System Introduction (Dual Protagonists Adol and Dana)

In Ys VIII: Lacrimosa of DANA, Dana joins Adol as a second protagonist.

There's Adol, who lives the washed-ashore life on The Isle of Seiren…

…and Dana, who players will control and whose story will develop in Adol's dreams.

But just who is Dana? Why does she only show up in Adol's dreams? And what is the truth hidden on The Isle of Seiren? Through Adol and Dana's stories, all will gradually be revealed.
Ys VIII: Lacrimosa of DANA is due out for PlayStation 4 and PS Vita in Japan this summer.
View the screenshots at the gallery.