Uncharted 4 limited edition PS4 hardware bundle announced
A Gray Blue PlayStation 4 with Nathan Drake on it.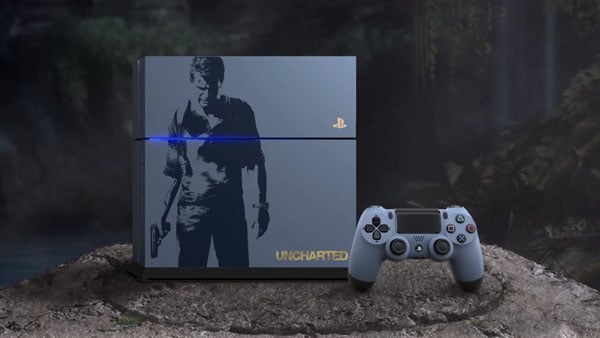 Sony Computer Entertainment has announced a limited edition Uncharted 4: A Thief's End PlayStation 4 hardware bundle, which will launch alongside the game on April 26 for $399.99 USD / $499.99 CAD. Pre-orders are available now in North America.
The bundle includes a 500GB PlayStation 4 (1TB in Europe) in Gray Blue featuring a silk-screened image of Nathan Drake on its face, a matching DualShock 4 controller, and a physical copy of Uncharted 4: A Thief's End. The PlayStation logo, Uncharted logo, and Latin phrase "Sic Parvis Magna" (meaning "Greatness from small beginnings") are engraved in gold on the console.
Pre-orders for the limited edition hardware bundle will include a voucher for an Uncharted: Drake's Fortune outfit, golden weapon skin, and Uncharted Points to use in multiplayer mode.
The DualShock 4 controller that comes with the hardware bundle will also be sold separately in early March for $64.99 USD / $89.99 CAD.
Lastly, a limited edition Gray Blue version of the Gold Wireless Headset will also be available in early March for $99.99 USD / $119.99 CAD. Like the console, it also features the PlayStation logo and "Sic Parvis Magna" engraved in gold. A custom Uncharted 4 audio mode tuned specifically for PlayStation headsets by Naughty Dog will be available via the Headset Companion App when Uncharted 4: A Thief's End launches on April 26.
Watch a trailer below.