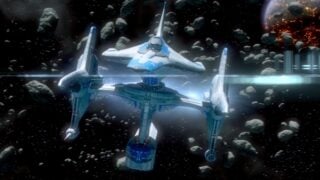 Square Enix has released new details and screenshots of Star Ocean: Integrity and Faithlessness detailing Charles D. Goale, the spaceship you'll travel across worlds on, and new battle system features like group battles.
Get the information below.
■ Charles D. Goale

A state-of-the-art space battleship owned by the Pangalactic Federation. It is a large-scale exploration battleship with a high maximum occupancy capable of long-term exploration, equipped with powerful weapons, shields, and engines.

Part of the ship's interior is somewhat of a town, as it's lined with shops and even a medical office called the Sick Bay.

There's a small shuttle within the battleship that you can take to get down to your destination.

■ Battle System

Step

During battle, you can step in any direction to avoid getting hit. This is a good skill for parrying enemies and carrying out counterattacks.

Character Change

Before battle, players are controlling Fidel, but at the start of battle, it will automatically change to the character you were last controlling in battle. The character you're controlling is indicated in blue in the user interface.

Group Battles

Because the Kingdom of Resulia and the Kingdom of Trei'kur are at war, conflicts will break out in various places. Fidel and company might get involved in these conflicts, leading to seamless event group battles. These are somewhat different from standard battles, as a large number of people outside the party will participate.

■ Battle Skills

A Selection of Fidel's Skills

—Cyclone Blade

Fidel jumps in the air while spinning around and mows down the surrounding enemies. The enemies involved might get launched up into the air.

—Mirror Blade

Slice the enemy with five consecutive attacks at instant speed. The final slash might lift the enemy to the air.

—Shotgun Bolt

Creates a forward burst of lightning. It might sometimes put the enemy in a fog state.

A Selection of Emmerson's Skills

—Burst Emission (Reserve Rush)

A wide-range attack where Emmerson pounds the ground with a giant amount of energy, which blows out of the surrounding surface.

— Chaotic Blossoms (Guard Counter)

A dropkick attack that blows back the enemy.

■ Private Actions

Private Actions is a system that lets you enjoy conversation events with each character in town and along your journey.

Here we see Miki telling Fidel that she wants to try all the sweets in the world, and that the road of sweets never comes to an end.
Star Ocean: Integrity and Faithlessness is due out for PlayStation 4 and PlayStation 3 in Japan on March 31, and for PlayStation 4 in North America and Europe in 2016. In Japan, the game will also be available in an "Ultimate Box" edition.
View the screenshots at the gallery.