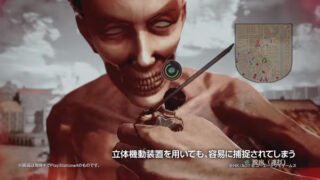 Following the first three videos in December, Koei Tecmo and Omega Force have released the fourth in its series of 'battle system' gameplay videos for the upcoming Attack on Titan game. There's a new TV spot, too.
This one is all about getting out of a difficult situation. In other words, not getting eaten by a titan.
Attack on Titan is due out for PlayStation 4, PlayStation 3, and PS Vita on February 18 in Japan, and this year in North America and Europe.
Watch the footage below.
Battle System #4
TV Spot: 15-second Version
TV Spot: 30-second Version