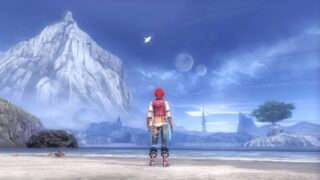 Falcom has released new Ys VIII: Lacrimosa of DANA information and screenshots, detailing the action RPG's prologue and main character Adol Christin.
Get the information below.
Prologue

Do you know of the adventurer Adol Christin?

The extraordinary adventurer Adol Christin has challenged many adventures in his lifetime, and left behind over a hundred of volumes of "Adventure Journals" detailing his adventures.

This story is one volume of his "Adventure Diary." Written in the "Goethe Sea Guidance Chronicle," this is one of Adol's adventures—.

"Siren Island."

In an archipelago of South Greek, in the waters of the Goethe Sea, rumor has it that a mysterious ship was sunk.

Adol is aboard a passenger ship called "The Lombardy" heading from Xandria towards the continent of Eresia, when the ship is suddenly attacked by a huge oceanic creature, and together with its passengers, sunk.

When he wakes up, he is on a glittering white sandy beach. Adol notices the open see offshore.

This is "Siren Island," known otherwise as the "forever cursed island."

The island is of primitive nature untouched by man. It has strange creatures that evolved differently from those of the outside world. The island is dotted with mysterious ruins of ancient civilizations, as well.

In order to rescue the passengers drifting ashore and defend themselves from the "Ancients" that attack humans, Adol builds a "Drifting Village" as a base.

Before long, Adol has a strange "dream" on this island. There is a mysterious girl with blue hair, and she lives in an unknown world.

Why is this island known as the "forever cursed island"? What is the hidden mystery of this island? And who is the girl who appeared in Adol's dream?

Buried in the waves of legend on a solitary island in the distant sea, Adol's new adventure begins.

Adol Christin

21 years old. A young man with fiery read hair and black eyes clear as a boy's.

At age 16, he left his nameless mountain village in the Europe Region, and went on a number of adventures, including to the the ancient kingdom of Ys and the Celceta Sea. He's young, but his name is well known as an adventurer.

He was aboard The Lombardy on the Goethe Sea when it was attacked by a mysterious giant oceanic creature, and goes missing along with its passengers.
Ys VIII: Lacrimosa of DANA is due out for PlayStation 4 and PS Vita this summer in Japan.
View the screenshots at the gallery.